March 1st 2016 - Please consult this page often as this page will change as more information comes available regarding Helios and the transition to accepting EMV payments.

3/1/2016 - UPDATE

In the 2nd quarter of 2016, Helios will be migrating all integrated Credit Card processing clients over to the EMV compliant gateway. What does that mean for you? Below are some frequently asked questions.

How will I know when this has been completed?
Helios will be in touch with you directly regarding your migration to the new gateway for EMV processing. You will be notified well in advance of the move.

Can I still use my keyboard swipe and magtek swipe I am using now?
YES! These devices will still work with all swiped transactions but will not be able to perform EMV chip transactions. You are not required to use and EMV compliant device on the new gateway.

Can I buy a new EMV chip device and which one should I purchase?
Yes, all purchases of EMV devices need to be made directly through Cashback. Please contact them directly for the correct device if you wish to purchase .

Will the new devices purchased to process EMV chip cards able to support Apple Pay?
Yes, the new device will support contactless methods of processing such as Google and Apple Pay.

Please stay tuned and as always feel free to give us a call for further information.



12/31/2015 - UPDATE

Helios v12 Enterprise will soon have EMV capability. This will include the ability to use the EMV hardware which many of you have inquired and pre-ordered through Cashback, our integrated Credit Card processor.

You will see updates in January 2016 regarding different options available to you as a Helios v12 Enterprise user.



Please be reminded that no EMV hardware will work with Helios until the full migration is complete. We are awaiting final word from our Gateway as to when that will be possible. It is most likely that all Helios v12 Enterprise clients will be migrated over in the first quarter of 2016.

What that means to you and can you still use your Helios keyboard and swipe?
The answer to this is yes. Your Helios keyboard and magtek swipe will still work the same on the new gateway. What you will be able to do when the migration is complete is add an EMV device to accept the chip cards. Again, there is no mandate to do this if you choose not to at this time.

Stay tuned.


10/14/2015 - UPDATE

Many of you are inquiring about the upcoming announcement regarding the October 1st liability shift and we are certain you have people coming in your door spreading information that is not true regarding this date.

Here are a few frequently asked questions:

I have my new EMV equipment, when can I use it and will it work?

If you ordered and had your equipment configured through Cashback, then it will work with Helios. However, until the final upgrade is completed between the Credit Card Gateway and Helios the EMV equipment will not work. Helios will communicate directly with you when that shift will occur.


Am I required to buy new equipment and shift to EMV by October 1st?

You are NOT REQUIRED to do anything by October 1st. This date was passed down by the payment card industry as a guideline. As stated before, MOST merchants will not have Point of Sale integrated EMV transactions by October 1st. All merchants will be moving to EMV enabled transactions in the coming months.

You will see EMV at big box retailers (Target, Wal-Mart, etc), but the vast majority of restaurants and other smaller businesses with Point of Sale integration will not be EMV enabled October 1st.


Can I purchase the EMV enabled equipment now?

Cashback has the EMV device available for reservation and pre-order now. Since this device is being tested and fully integrated to the new gateway, it will not be available for shipment until later this fall due to the timeliness of the information being passed down to our gateway.


Can I still use my Helios keyboard and/or Magtek Dynamags for swipes after October 1st?

Based on a lot of your feedback, we are now happy to announce that the keyboards will work with the new integration. You will still be able to process swipes as normal through the keyboards and Dynamags.


Currently with Helios v12 and Cashback integrated credit card processing you have 2 parts in what Visa calls the "triple play" in fighting fraud, encryption and tokenization. The third part (EMV) will be coming very soon. Please note, that your data is extremely secure with these processes in place.



Recently, information has been released by Visa Headquarters that will give some proper perspective on the upcoming EMV liability shift.


As of July:
117 million EMV cards have been issued (28% of total cards)
78 million of which are credit and 39 million are debit
250,000 merchants have been EMV enabled (this represents about 5% of the US merchant base)
A few hundred terminals supporting EMV PIN debit have been enabled
The recurring theme from Visa was that issuers are rapidly putting out more EMV cards while the US merchant base is struggling to become EMV ready. The reason is simple-the processors have been very late in putting out EMV specs and getting ready for EMV testing. The processors have focused first on their large retailers and their stand-alone terminal merchants. Today you will see Walmart, Home Depot and Target accepting EMV cards and you will also see various small terminal based merchants accepting EMV. The POS integrated solution, which is much more prevalent in the U.S. than any other country, is slow to convert to EMV. The processors were just not able to handle all of the necessary testing in a quick enough time frame.

To paraphrase the many other messages delivered at the Forum, here are some of the highlights: "2016 is the year of the POS integration." 2015 will not happen for many integrators, and many others suggested it will lag into 2017. "Nothing really happened in Australia and Canada when the liability shift took place." Australia and Canada have recently added EMV and no disaster occurred when the liability shift went into place in those countries. We can expect the same in this country. October will come and go without much fanfare. "The bad guys will continue to target high ticket items, including electronics and jewelry, and those stores selling open acceptance gift cards." Credit card thieves will not go away and they will continue to search for weak links. "Encryption can be more powerful than EMV for preventing fraud and theft." Two interesting facts support this. Most of the world did not have encryption in place prior to EMV so EMV was sort of the first real attempt to counter fraud and theft in most places. The large breaches that have occurred in the U.S. in recent years (e.g. Target, Home Depot, Neiman Marcus, etc..) were all cases where the merchants did not have encryption in place. Visa highly recommends the triple play in fighting fraud and theft: EMV, encryption, and tokenization.

Please click here to access an EMV Handbook that has been released recently from our partners.
06/01/2015
What is EMV?
EMV is a global payment system that entails putting a microprocessor chip into debit and credit cards, making them less vulnerable to fraud for in-person transactions. Because EMV uses better data security, this standard is being adopted in the United States. In addition, most debit and credit cards will be reissued with EMV chips by October 2015. Although these new cards will contain an embedded chip, they still are being printed with the magnetic stripe for backwards compatibility.

How are EMV Cards Different?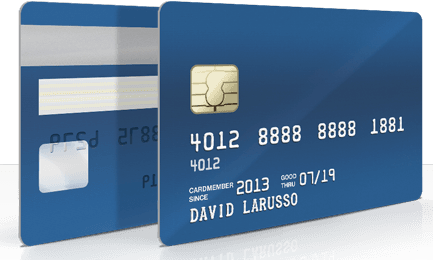 Magnetic stripe
Traditional cards hold static information that does not change once encoded by the card's manufacturer.
EMV chip
Smart cards generate dynamic data for each transaction which prevents the transaction data from being reused fraudulently. Cards with the EMV chip should NOT be swiped through the magstripe reader. EMV readers have a separate slot, typically at the bottom of the terminal, in which the card is placed in. Once the card is placed in the EMV slot, it should not be removed until the sale is complete.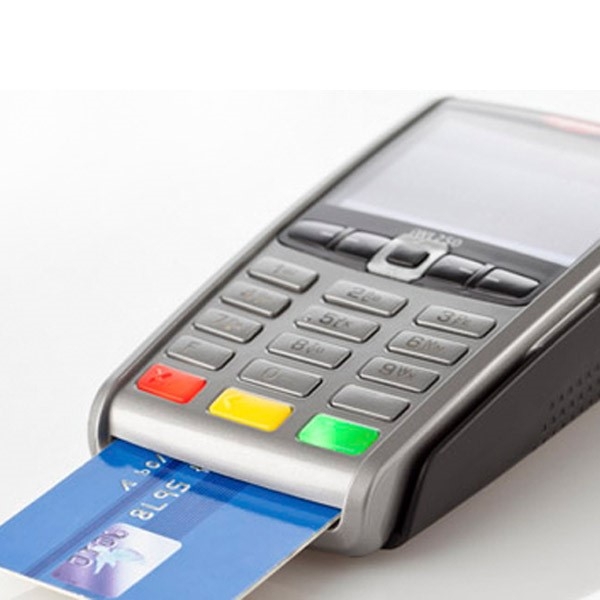 What do you need to know about the transition?
Created as a technology standard aimed at reducing card-present payment fraud, the EMV Transition also drives worldwide compatibility for card payments. Though not a mandate for merchants, as of Oct. 1, 2015, payment processors American Express and Discover are encouraging U.S. EMV adoption, with Visa and MasterCard following suit on Oct. 15.

Historically, payment issuers, processors, and merchants shouldered the costs for fraudulent card transactions. But the EMV Transition signals a shift in that liability. And the penalty for merchants without EMV technology in place at the point-of-sale will be stiff.

After October 2015, responsibility and costs associated with fraudulent transactions will pass to the party without EMV-compliant technology. If the customer doesn't have an EMV card and the merchant's terminal meets the requirement, liability shifts to the card issuer. But if the customer carries the chip card and the business lacks EMV capability at the POS, liability falls back on the merchant.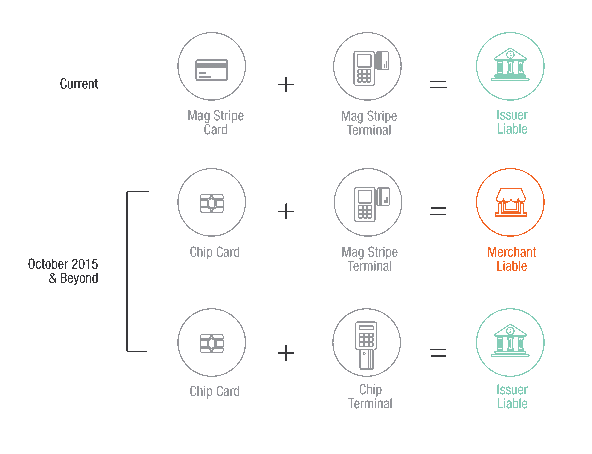 Why the shift to EMV Chip Cards?
Introduced in Europe in the 1990s, so-called EMV or "smart" cards were designed to combat the use of counterfeit, lost, or stolen cards. EMV technology embeds a microprocessor, or chip, into each card. The chip uses encryption to store and protect sensitive data and validates the card during every transaction at the POS.

In the point-of-sale payment environment, EMV cards provide security features not offered by magnetic stripe technology:
1. Each time an EMV card is used for payment, the card chip creates a unique transaction code that can only be used once, making it almost impossible to transfer skimmed or copied card data onto a new card.
2. Like an ATM transaction, the card is either inserted/ dipped into the terminal or waved within close proximity until the payment is processed. Although inserting is not as fast as a magnetic stripe swipe, the contactless method offers similar speeds and ensures the exchanged data isn't counterfeit.
3. Because security is one of the driving factors, customers will either enter a PIN or provide a signature to verify their identity and accept the transaction. This choice will be up to the card issuer on how it approaches the transition, with the PIN option being more secure and the signature option providing less friction with consumers.
Will I need new Hardware with my Helios Point of Sale?
Yes, you will need to hardware to accept EMV cards. Please contact CashBack at 1-888-442-3939 for the new needed hardware.
Worried About Getting All The New Card Numbers From Your Customers?
CLICK HERE to Learn how the CashBack UPDATER can help.