October 14th 2015 -
Two reports to help you collect more revenue each month:

The Credit Card Update and the Credit Card Expiration Report.
With the launch of the credit card updater from Cashback, Helios has updated our reports to help salons get the information they need for a better return on EFT's. If you are using Helios v12 Enterprise with Cashback Integration this service is currently working for you!

The credit card updater is a completely transparent service that once activated, will export your declined cards in an effort to update the cardholder's information. The updater will not only update expired cards, but cards that have been reported as lost, stolen or reissued as well. Even though all declines are exported, you're only billed for cards that get updated information!
Because this is an automated, transparent process, and the credit cards are updated in the software automatically, there's nothing additional that needs to be done by you. When new credit card information is posted, you will see what was updated via our new report. This report can be found under Management Reports->31. Credit Card Update.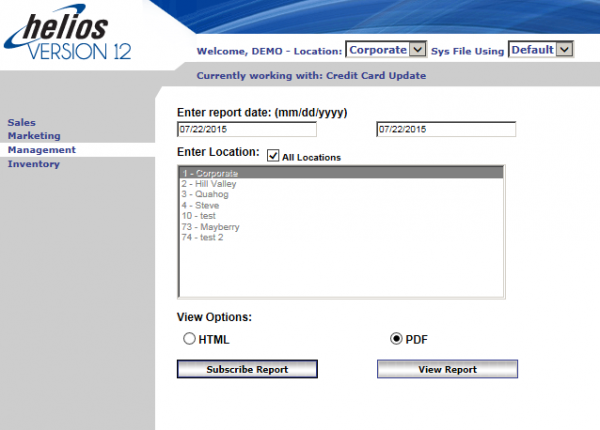 The report gives you the ability to view all of the cards that have been changed during your specified time frame. It defaults to showing changes for all locations, but you have the option to select individual salons as well.


Finally, Helios has added a completely revised Credit Card expiration report. This allows a more proactive approach to managing customer's accounts. When you select a month for the report, it now gives you the customer's name, last four and expiration of their cared, their monthly fee, and phone numbers. This will allow you to see how the updater could help you in future months and flag or contact members before their billing to get updated information.