April 1st 2015 -
New EFT Functions can save your Salon Money!
EFT rejects can unfortunately be a drag on your monthly finances. Whether it's a customer that accidentally gave you a bad card, or someone forgets to update a credit card expiration, those fees can add up.

Helios V12 now gives you the flexibility to suspend or delete a client's EFT and membership after a defined number of consecutive declines. With the customer's EFT account being automatically Suspended or Deleted, it will save you on fees that you may never recover.



With the Suspend EFT option, after the consecutive decline counter has been passed, a client's EFT information will get flagged as suspended. The EFT and Membership turn red, and notice that the account says "Suspended" under the modify options.



The Suspend flag prevents the customer from being submitted on any new drafts, but it leaves their negative balance, EFT membership, and their EFT information. This allows the membership to become active if the customer comes in and pays the balance, or if the balance is recovered through resubmission. The checkbox also allows you the flexibility of overriding the Suspend, and allows you to manually let the customer back into new drafts.




The Suspend feature also sets a filter on the EFT Extraction tab, and allows you to see all of your suspended customers. You simply need to check the Suspended checkbox, and then the View Draft button.




The Delete EFT allows you two options: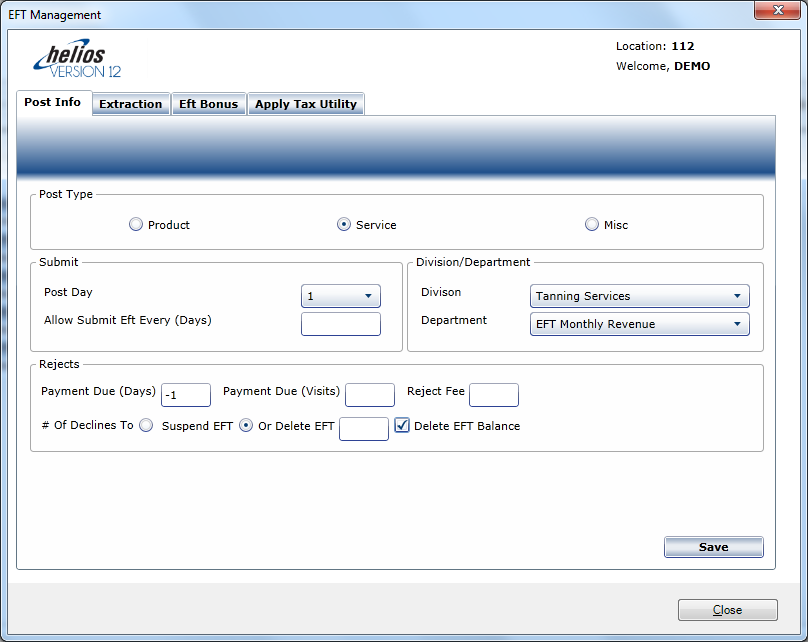 After your threshold has been crossed, the system will automatically Delete the customer's EFT information AND the customer's EFT membership. You have the option to also Delete the rejected EFT balance, which completely clears the customer's EFT related information (EFT account, balance, and membership). When a Delete occurs, it will additionally mark a transaction in the customer's history, showing that the EFT was deleted.

We hope that the use of one of these functions will allow you more control over your EFT drafts, further saving you money.

Thanks again for using Helios!