January 13th 2021 - With Helios 12 Enterprise, you can now set up a membership to have a free trial period before your clients are billed. This will allow you to help those clients who are hesitant to commit to a membership by giving them a chance to use and see what great services you offer.

Below is a step-by-step process on how to set up a free trial so you can start offering your clients an even better experience.

Setting up the Sales Code

Free trials are set up through the sales code. You can either modify an existing code to include a free trial or you can create a new sales code.

First, log in to Back Office and navigate to File Maintenance- Sales Code File. Pull up the sales code you want to apply the Free trial. Navigate to "package/membership Intelligence tab" and to 1.

the "EFT Plan" check box and

2. select "Open".





In the "Open EFT window",
3.
"Day of the Month" must be selected for billing day to enable the free trial settings. In the Free trial box,
4.
check the "Add Free trial" and
5.
put in the number of days you would like the free trial to last.




Select "Ok" and then "Save" to save the sales code. With that, your free trial is now applied

If you would like to allow upgrades and downgrades during the free trial, pull up your upgrade/downgrade sales code. Navigate to the "Package/Membership Intelligence" tab in the "EFT Plan" box and
6.
select "Up/DN Grade".





In the "Upgrade/Downgrade EFT Option" window,
7.
make sure that the "Allow upgrade to inherit Free Trial" is checked.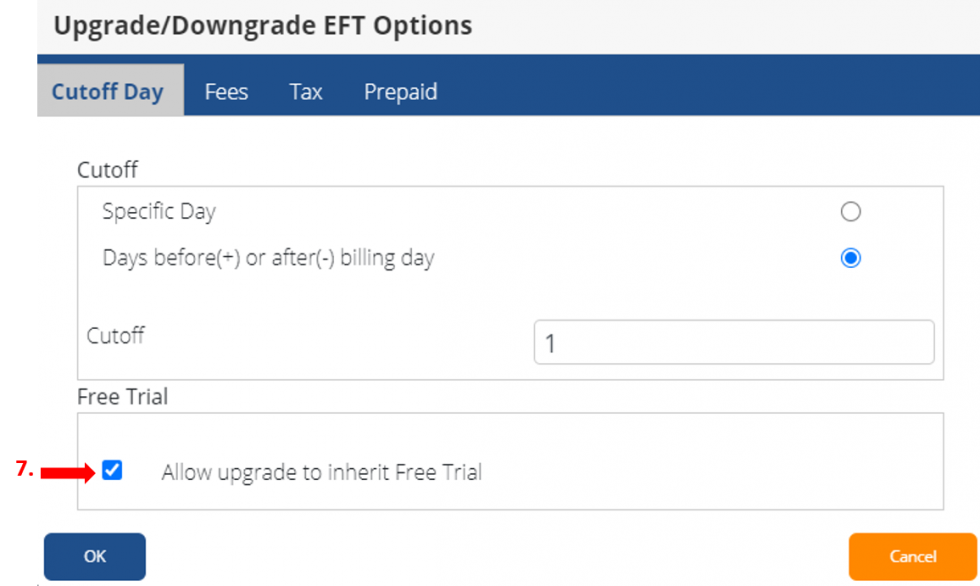 Then push "Ok" and "Save".

When a membership with a free trial is upgraded, the upgraded membership will inherit what is leftover of the free trial and then start billing the new membership price at the end of the trial.

If membership is downgraded during the free trial, the client will still be able to use the Free Trial for the original membership but will then be downgraded and billed for the new membership at the end of the trial.

Tracking the Free trial

Once you have sold the membership, the free trial will begin, and that client will be marked as having received a free trial in both
1.
the POS.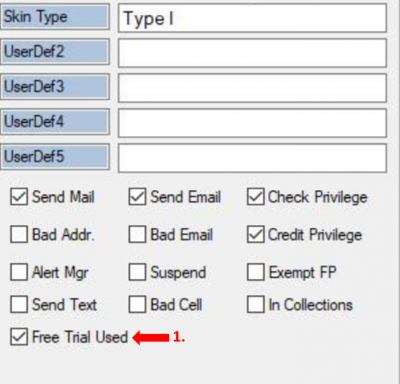 and
2.
in Back Office under Client Profile on the Personal Tab.






Each client is allowed only one free trial unless approved by someone with Master Edit for EFT permission.
From the POS you can also see
3.
how many days they have left when selecting the eft in their profile.



*During the free trial, the start and billing date are not editable. You can freeze or cancel the membership to keep them from being billed at the end of the trial, but the free trial will continue and not be frozen/cancelled.