December 30th 2020 - Our new smart mail wizard design gives you the same functionality as before, but with a simpler user interface. Use the smart mail wizard to pull a list of clients with qualifying criteria that you can use to send marketing material, or any other important information you need to send your clients.

From the POS select Management-Smart mail wizard. In Back Office select it from the top navigation

Step One- Select the location(s)
From the drop-down menu, select the locations you want to pull your clients from. You can select multiple by clicking on the location name (clicking on it again will deselect it for you) or you can choose "All locations" to select all of your locations




Step Two- Add Filter(s) (optional)
Select filter(s) to narrow in on a specific set of clients. Filters use "and" criteria unless multiples of the same filters are used in which a "or" criteria is used.
EX: Clients with X Birth Month and with X Membership and ages 20-30 or 30-40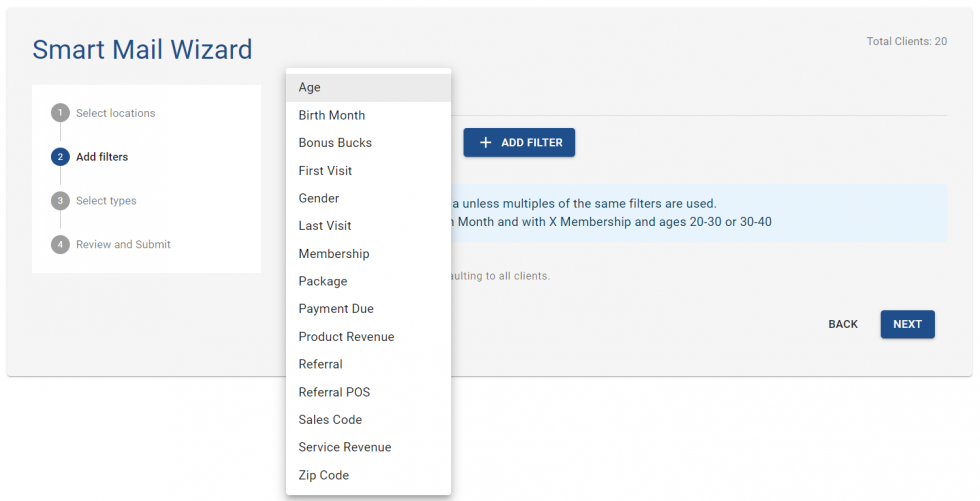 *for packages and memberships filters- only those associated with the location you are logged into in Back office will be pulled

Step Three- Select Types (optional)
Here you can select the type of mailing you want the list for. Use the options to include only clients that have the selected information on file. Selecting no checkboxes will include all clients that fit within the filters added.





* clients whose email or address information has been flagged as bad or send as unchecked in POS will not be included




Step Four- Review and Submit
Look over the selections you made. If you need to make adjustments you can use the "back" button or select the step you need to edit from the left menu.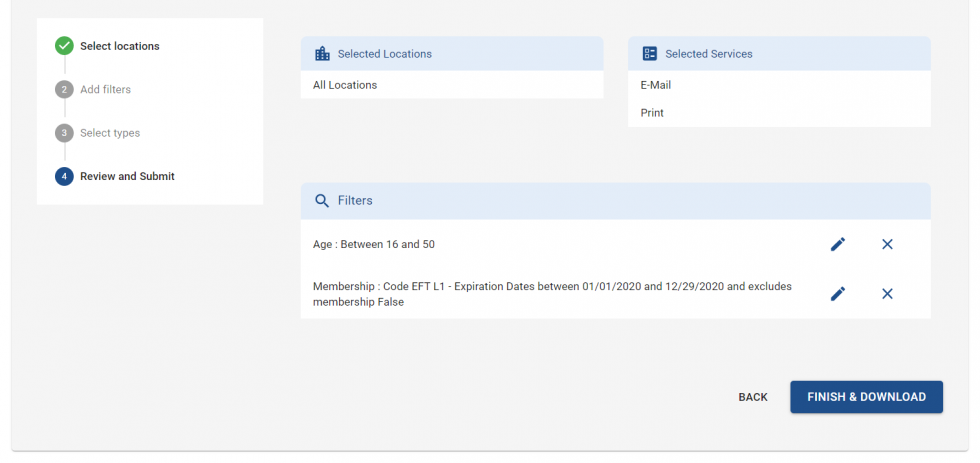 Once you are ready to pull your list select, push "Finish and Select". Your CSV file will either download automatically or you will be prompted to save the file on your computer.