September 20th 2019 - Helios is pleased to announce that salons using our digital document management will now have the ability to automatically send those documents to their customers!

To enable the delivery of your digital documents, you must be using the ePad and have digital documents enabled. Once that option is enabled, you will need to go to BackOffice to opt-in to the email service. In Backoffice, under File Maintenance->Defaults->Release/Contract defaults->E-Mail Settings: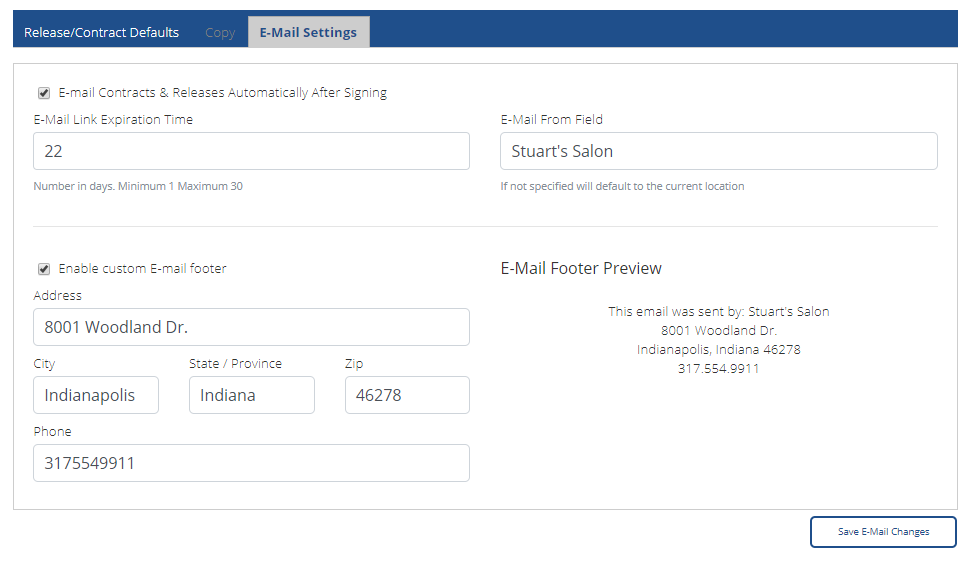 Simply check the box to enable E-Mail delivery. Due to the sensitive nature of some of the information that may be in a contract or release, the documents will have download expiration dates. You can set this to any number of days between 1 and 30. Additionally, you can configure or rename how your salon's name is displayed in the email body, as well as add a custom email footer to each location.
To enable the footer, check the "Enable Custom E-Mail Footer." This will allow you to fill in the address and phone number of the salon so that customers can be confident that the email is from you.
Click "Save E-Mail Changes," and you are good to go!





Once clicked, you will get a prompt that the email was sent successfully:




Resending the document will give the customer a chance to save their document again within the time frame you allow.

We hope this new feature is useful to your salon and your customers. Know that we are always working towards assisting you and your salon in every way possible. Thank you for being a valued Helios customer!